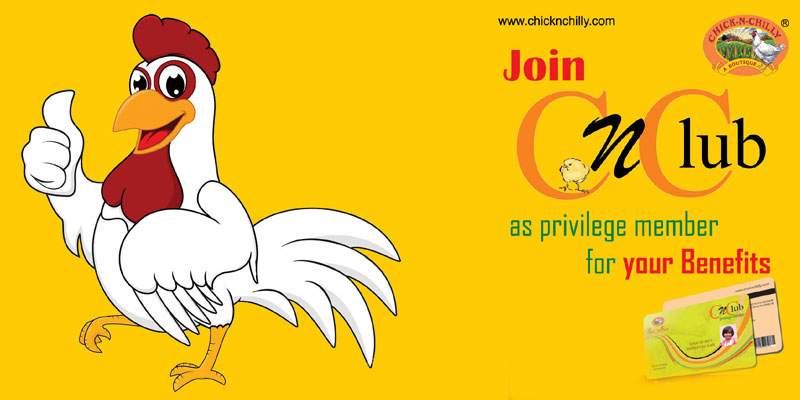 Chick-N-Chilly (CNC), an award winning reputed brand of Guwahati introduces their first of its kind of Chicken Boutique in whole of Eastern India. CNC's Chicken Boutique is a unique concept of providing a ONE STOP SOLUTION to all kinds of chicken needs of the consumer under one roof. The Boutique is presently going to serve Raw & Marinated Chicken, Ready To Cook Chicken products and more interestingly Ready To Eat take away delicacies - all in Chicken. All this is just a call away with FREE HOME DELIVERY service(T & C apply). On the later stage, CNC plans to offer a multi-cusine fine dining experience to its esteemed customers. Vegetarians, no need to get puzzled as CNC also has few vegetarian names on the placard.
Properly Vaccinated, Healthy & Tender live chicken sourced from contracted farms and processed hygienically with ultra-modern equipments and clean atmosphere to brings it to your table is the ultimate USP of CNC. The raw chicken is converted to ready delicacies with the innovative and mouth-watering recipes of CNC. One can very well enjoy a long list of ready food comprising of wide choices in Baked Roasted Chicken, Grilled Chicken, Fried Chicken, Indian Curries, Continental and salads etc. Chicken Shawarma, Barbeque Chicken, Smoked Chicken, Chicken Seekh Kabab, Rocket Salad, etc are some of the signature delicacies of CNC to name a few. CNC'c Lucknow Dum Biryani is already a all time big hit of guwahati in very short span.
To create the awareness of this unique concept and offer the services to maximum customers, CNC has designed a very exciting Customer Loyalty Incentivization Program backed by comprehensive CRM activities. Customer can now enroll as the CNC Priviledge Club members from the da one and can start earning Loyalty Points on every purchases made at CNC. While there are exciting redemption products and services available the loyalty points earned, CRM activities like Daily, Weekly Monthly Lucky Drawns, Gifts, etc. is yet another reason for the customers to visit CNC on regular basis and not miss out anything.
Any customer wishes to be a CNC Privilege Club member can do so just by filling a small enrollment form at the outlet. The enrollment charge (non-refundable) is mere Rs. 100/- per enrollment.

Once the duly filled enrollment form is received at the CNC outlet, the customer will be given an acknowledgement cum receipt of the form and the membership charges. All the club membership facilities could be availed even against this acknowlwdgement copy of the enrollment form.

CNC will then process the enrollment form in 15 to 20 working days and send you a Privilege Club membership card with your name and membership number on it.

Once the membership card is issued, it is mandatory for the club member to carry the card to the outlet and flash the same at the time of every purchase.

This is a family member can use the membership card at the CNC outlet.
Every CNC Privilege Club Member will be alotted a unique membership number.

The CNC Privilege Club Membership the loyalty Reward Program is valid for the lifetime of the club member.

The club members will earn 1 Loyalty Point against the purchase of every Rs. 150/- spent at the CNC outlet. Any purchase amount exceeding Rs. 150/- or its multiples will be carried forward for the next purchase.

An existing CNC Privilege Club Member can refer / introduce another customer to CNC as a club member and earn special 5 Loyalty Points for the referral.

There are various option and offer available for the redemption of the Loyalty Points earned by the club member. The redemption options will starts once any member accumulates minimum 100 Loyalty Points in his/her account.

CNC will acknowledge the top 3 Loyalty Points earners of the year (1st April to 31st March) and will reward them with most special rewards as a yearly bonaza.
The CNC Privilege Club Membership and Loyalty Program is offered by CNC as a promotional marketing initiative only without any monetary benefits to CNC.

The final decision regarding redemption of loyalty points, Gifts, offers, terms, time frame, etc would be a sole discretion of CNC management. In case of unavoidable circumstances, there may be changes in these without any prior notice.

The CNC Privilege Membership Cards is non transfferable.

The CNC Privilege Club Membership status, a member is required to make minimum purchases from CNC every year from the date of enrollment.

In the case of a missing membership card, the club member is requested to inform the same to CNC outlet and claim a duplicate membership card by paying Rs. 50/-.

CNC Privilege Club Members are requested to check the gifts / redemption rewards immediately on receipt and inform CNC in case of any damages, malfunction, etc. No claims on later stage will be entertained.

For any electrical or electronic article gadget/home appliances, etc the warrantee and post sales service if available would be extended from the manufacturer only.

Any dispute regarding thi loyalty program / club membership can be sorted out amicably with the CNC management.
| Sr. | CNC Customer Advantages | Privilege Club Member | Non Member |
| --- | --- | --- | --- |
| 1 | Unique CNC Privilege Club Membership Number | ✔ | ✘ |
| 2 | CNC Privilge Club Membership Card | ✔ | ✘ |
| 3 | Home Delivery Service in Hengrabari area | ✔ (Free) | ✘ (Chargeable) |
| 4 | Daily Lucky Drawn with exciting gifts | ✔ | ✘ |
| 5 | Monthly Lucky Drawn with exciting gifts | ✔ | ✘ |
| 6 | Mega Lucky Drawn once in a year with mega offers | ✔ | ✘ |
| 7 | Personalized wishes & discount coupons on your special days | ✔ | ✘ |
| 8 | Earning of Loyalty Points against every purchase at CNC | ✔ | ✘ |
| 9 | Earning of Referral Loyalty Points | ✔ | ✘ |
| 10 | Redemption of Loyalty Points with many gifts and offers | ✔ | ✘ |
| 11 | Access Login facility on CNC's Website | ✔ | ✘ |